Dec 9, 2017 09:19 AM Central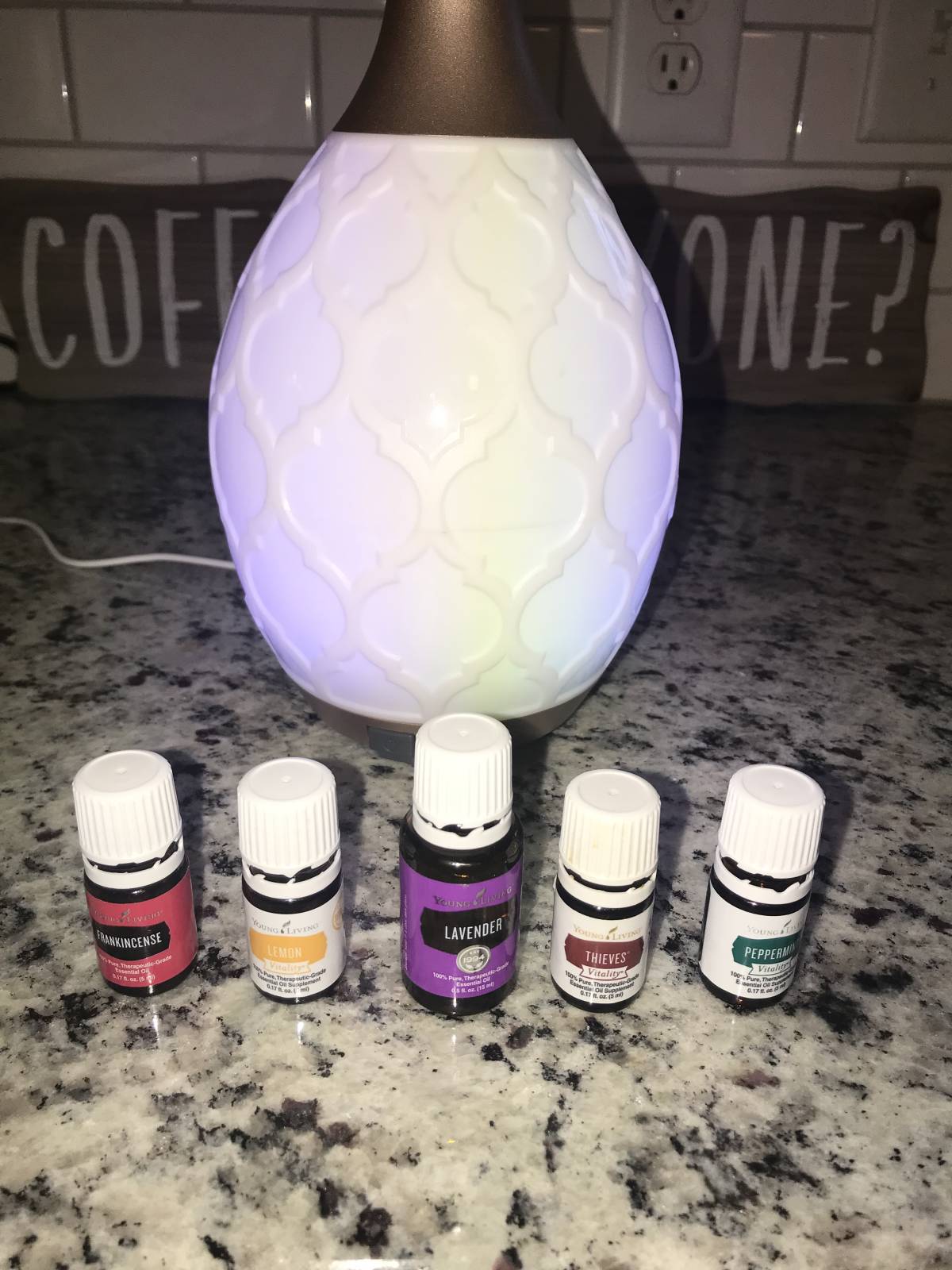 When I first received my premium starter kit, I diffused and that was about it.
It didn't "click" with me until months later of doing my own research that there were many other ways of using the oils every day.
I had an "A -HA" moment when I realized this one statement that I read in Sarah Harnisch's book, "The Gameplan." This statement resonates in me daily, I mean every single day. Here it is: "Tests have shown oils reach the heart, liver, and thyroid in three seconds when inhaled; they were found in the bloodstream in 26 seconds when applied topically. Expulsion of essential oils takes three to six hours in a normal, health body."
Seconds. Think on that and digest it.
After my "c" word, you better believe that matters to me.
My favorite oils to use and the ones I count on daily are frankincense, lemon, thieves, lavender, and peppermint. Yes, I do use others but these are a must have on the daily.
I inhale frankincense every single day. Have you researched the benefits of frankincense? Oh my, challenge on if you haven't.
Young Living's frankincense comes from the Boswellia plant (I use the Young Living boswellia cream twice daily on my face and neck, it feels amazing.)
I diffuse it with lavender at night.
I put it in my shake every day.
Lemon is my second favorite. It is in my yeti full of water daily. Have you read the benefits of lemon? Wow-Za!! It will blow you away. Challenge number two, spend some time researching the benefits of lemon.
Thieves, my other second favorite, it ranks up there with frankincense and lemon, to be honest. You will never ever miss having a glade plug-in or candle burning in your house again, I promise. This oil smells amazing.


I ingest it daily in my water or shake. I diffuse it as well.
Lavender is also another that smells amazing and gives much more than just sleep support. It's hard to rank these oils in a 1, 2, and 3 when I equally love them all.
There are two apps you can choose to download one or the other to help you do your research. TheEObar and the reference guide for essential oils. It's not free, it's a $6.99 one time fee but this will give you tons of research and information at your fingertips.
Ingest them, roll them on, diffuse them, so many ways to use what's in your starter kit.
Give me some feedback on what your favorites are when you crack open your kit and use a few!
Looking forward to hearing from you.
Have a great weekend!
Jennifer :)
Dec 2, 2017 09:18 PM Central
You are important.
You are needed.
You are valuable.
In our society, we are always on the go. I find myself saying this term a lot, "all go, no quit." I feel that's where most of us are. Finding ourselves working, parenting, serving, helping others, we all have much on our plates. All the more reason that we must take care of ourselves.
I hear and see so many who are so stressed on the daily, unable to sleep at night, who struggle with anxiety, healthy eating, and all of the above for some. These things take a toll on our bodies and can lead to sickness and even disease.
What we put in our bodies and on our bodies matters.
Sickness can hinder us from fulfilling God's plan in our lives and inhibit us from feeling healthy and whole to do His work. Our families and co-workers depend on our guidance and assistance. When we don't feel well we aren't living up to our full potential.
Building our immunity with potent essential oils and taking vitamins infused with essential oils will help us to fight off sickness and germs enabling us to lead productive lives.
I am so happy that you're educating yourself on taking care of your bodies. Your children, family, co-workers, and friends will also learn from you as you share about your journey.
They're curious about a better, more healthier way. Please don't keep these oils and chemical free products a secret.
They're important.
They need you.
They're valuable too.
Talk soon!


Jennifer :)
Dec 1, 2017 04:51 PM Central
I knew I had to help my oldest last year and even though I had heard of the oils, I just hadn't "gotten there" yet. I am sure you can relate, we are busy all the time. I knew I needed some for my health and wellness too but when your children need something, there's a mother extinct that kicks in overdrive!
I had to help because she wasn't getting adequate sleep at night. She was tossing and turning waking up tired and exhausted. Senior year was tough with many deadlines, projects, college applications, you name it! On top of that, she worked a part-time job and still cheered for football and basketball.
I reached out to a neighbor of mine and asked if she knew anyone who sold Young Living. I needed someone to hook me up!
My neighbor connected me with someone I didn't even know! I met with her and she was a former RN who truly believed in the oils. My mom also wanted to hear about them and we set up an appointment to meet.
I then learned of lavender and how it helps with our rest and stress levels aiding in sleep support.
BOOM, I could use something that was safe and that would help in addition to making her whole room smell amazing!
My other two daughters were intrigued and, needless to say, they also wanted to experience the calming lavender at night.
I ordered the premium starter kit from Young Living that night, as did my mom, and began my journey of essential oils in January 2017.
Lavender was just the beginning.
We all have a diffuser in our bedrooms and one in the kitchen as well.
I'm also super thankful for lavender because it also helps my youngest daughter with some irritations on her skin.
Check out
YLsearch.com
under images and look at all the benefits of using lavender, it will amaze you!
Thankful for YL and my upline, Stacey Vincent!